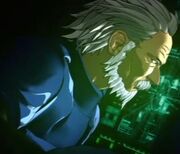 Commander Lance is the leader of the Olympus ES.W.A.T. paramilitary force.
He is subordinate only to an unnamed Colonel who is rarely seen in the manga interpretation of the series (and absent entirely in the recent anime movies).
In the 2003 film, Deunan addresses Commander Lance during the defense of the city after the 1h32 minute mark.
A man arrives 12:30 into the Ex Machina sequel whom Deunan also addresses as 'Lance'. Being that this film happens afterward and this man is much younger, he is probably Commander Lance's son. He is later referred to as a Captain, normally a lower rank, so Captain Lance is clearly another individual.
Ad blocker interference detected!
Wikia is a free-to-use site that makes money from advertising. We have a modified experience for viewers using ad blockers

Wikia is not accessible if you've made further modifications. Remove the custom ad blocker rule(s) and the page will load as expected.