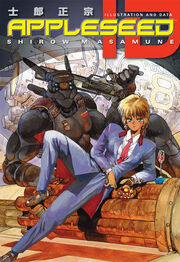 Appleseed ID, formerly known in Japan as the Appleseed Databook, is the first of two "graphical encyclopedias" which elaborate on the background to the Appleseed manga series, the second being the much smaller Appleseed Hypernotes. Included are many original color sketches from author Shirow Masamune, discarded manga pages, Landmate diagrams, and the satisfyingly drawn and presented short story, 26: Called Game.
Notes and References
Edit
Ad blocker interference detected!
Wikia is a free-to-use site that makes money from advertising. We have a modified experience for viewers using ad blockers

Wikia is not accessible if you've made further modifications. Remove the custom ad blocker rule(s) and the page will load as expected.