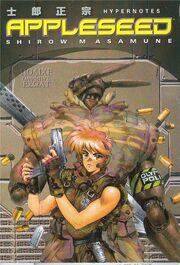 Appleseed Hypernotes is the second of two "graphical encyclopedias" that further detail the future world of Appleseed, the first being the larger Appleseed ID. Hypernotes also contains the unfinished first draft of what was supposed to be the final installment of the main Appleseed manga saga, the fabled and untitled "Book Five" that Shirow Masamune discarded, and kept in storage for several years.
Notes and References
Edit
Ad blocker interference detected!
Wikia is a free-to-use site that makes money from advertising. We have a modified experience for viewers using ad blockers

Wikia is not accessible if you've made further modifications. Remove the custom ad blocker rule(s) and the page will load as expected.